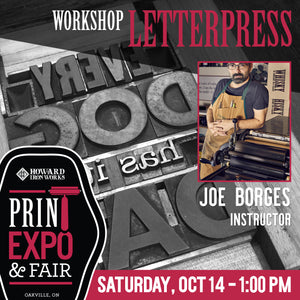 HowardIronWorks
Letterpress Workshop - Oct 14, 2023 at 1:00 PM
Date: Saturday, October 14, 2023

Time: 1:00 PM - 2:00 PM 

Where:
Howard Iron Works Printing Museum, 800 Westgate Road, Oakville, ON L6L 5N2
This is a general lesson and intro to Letterpress with a particular focus on typography and designing with type. We'll discuss kerning technique and style, how to set and lockup wood/metal type and hand inking techniques.

You'll learn the basics including Letterpress terminology, hand-setting wood and lead type, make-ready, ink mixing and hand-inking.


Maximum 10 participants. 
---
More from this collection