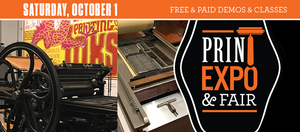 We're super excited to announce that the 2022 edition of the Print Expo & Fair is returning to our museum on Saturday, October 1. Activities include tours, demos, hands-on printing experience, workshops and shopping for unique and beautiful offerings by a talented group of artists, printers and book arts folks.Special thanks to the participants, vendors, organizers, and volunteers for the continued support of the Howard Iron Works Printing Museum and its endeavours.PE&F is a community event for all ages in a fully accessible facility. Let's have a great show, and I look forward to seeing you all at the PE&F...
---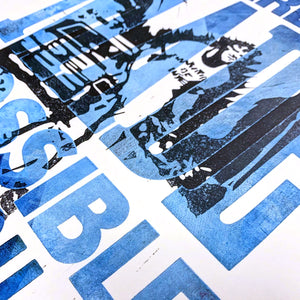 Like many of us, Joe Borges and Margot Cudmore of Pomegranate Letterpress Design were inspired by Terry's Marathon of Hope and, for many years, supported the Terry Fox Run and other fundraising endeavours. This year, Joe and Margot are taking it up a notch.
---
• News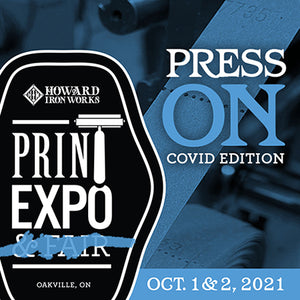 HIW Print Expo 2021 is now history. A wonderful event supported by talented artists and a fantastic behind-the-scene group of smart people, and last but not least, the attendees – without them, the Print Expo 2021 wouldn't be successful and as much fun as it was. Hope to see you in 2022!
---
• News • printingfair • workshop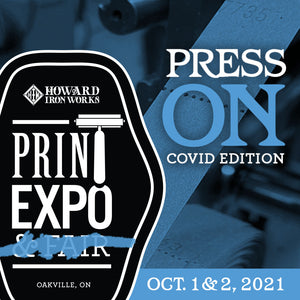 Featuring virtual tour, workshops and demo and interview - register early to avoid disappointment.  For workshops, go to Main Menu, under Catalog you will find the description and links to purchase tickets and registration.
---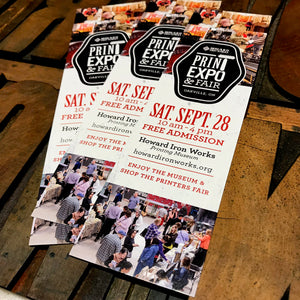 We're super excited to announce that Howard Iron Works Printing Museum will be participating in the Doors Open Oakville again this year. The museum will be open to public on Saturday, September 28, from 10 am to 4 pm. Admission is free.  We will also be holding our second annual 2019 PRINT EXPO & FAIR which will feature about 20 vendors and artists, demos and hands-on printing experience, and new feature this year is a series of workshops being held through out the day. Watch out for the details in the days to come. So, save the date and plan to enjoy the...